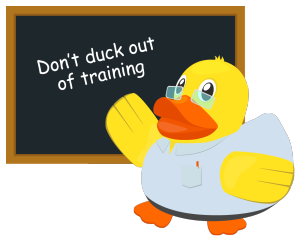 Don't Duck Out of Training with Project Skills Solutions.
Marvin our Project Skills Solutions Mascot (aka the duck) has been out spreading his message recently. That message is simple, Don't Duck Out of Training.
Whether you require a single course or a complete training program Project Skills Solutions can help. We have been running for nearly 10 years and have a HUGE range of safety and management training to offer clients. With lots of courses now available to book direct online, it is now even easier to book your place www.projss.co.uk 
We launched our e-learning this summer, by completing a course via this platform you can save up to 30% and complete your course anytime, anywhere.
If you have any questions or would like further information please do not hesitate to contact us.
Kind Regards,
PSS Training Team & Marvin