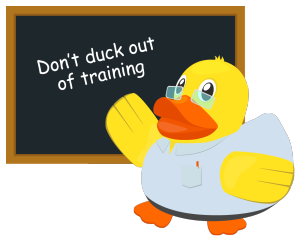 PSS Training has one simple message… 'Don't Duck Out of Training'. If you have completed a training course with PSS you will receive a Marvin (the ducks name). We have pictures sent in of Marvin's 'ducking out of work' all over the world. This Marvin was recently in Austria.
Whether you are an individual looking for a single course or a company with a whole workforce to train we have the solution for you. You can book many courses direct on our website, if you see a course listed but with no dates call our friendly training team and they will advise you of the next dates. We have locations UK wide so you are never too far away from a training centre.
View our website for full course listings.
If you have any questions please do not hesitate to contact us.
PSS Training Team
0800 0213 263